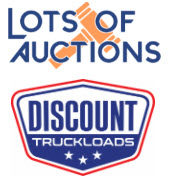 DT Lots is pleased to announce our partnership with Lots of Auctions, an online auction platform with headquarters in Dallas, Texas. Through the Lots of Auctions platform, online bidders can bid on thousands of items each week. Registration is free and bidders only pay for the auctions they win.
By partnering with Lots of Auctions, DT Lots will have the opportunity to bring more products to market faster. Bidders at Lots of Auctions will have peace of mind knowing the merchandise they're buying comes from a trusted Texas liquidation supplier. DT Lots plans to offer large lots of our liquidation inventory through auction. Bidders at Lots of Auction will have the opportunity to bid on individual items or entire pallets of merchandise.
DT Lots plans on having a long-lasting and mutually beneficial relationship with Lots of Auctions. We will list new product each week on the popular auction website. Bidders will be able to bid on product and obtain high quality merchandise from DT Lots at deeply discounted prices. Bidders can pick-up their items or have them shipped directly to their location with prior approval. Please contact us before bidding to arrange shipping.
Although this partnership offers significant benefits to anyone that chooses to participate, it provides the greatest benefits to resellers. Purchasing product through auction allows resellers to get quality merchandise at rock bottom prices. This increases earning potential and allows resellers to obtain large amounts of inventory without spending a lot of money up front. Online auctions provide an opportunity for resellers to reach more customers than possible with reselling at swap meets or through a brick-and-mortar store.
Although Lots of Auctions is a fairly new online auction platform, the company already has a solid base of regular bidders. Because their auctions take place entirely online, resellers have the opportunity to reach bidders from all over the world.
Discount Truckloads is excited for the opportunity to work with Lots of Auctions. We're also excited for the opportunity this opportunity creates for our resellers. We hope you'll join us in this new adventure!
Please click here to view Lots of Auctions' website. Please contact us for more information about this partnership.